Channel Drain
Channel Drain has an attractive dual channel top that reduces water pass-over. Channel Drain ia an extruded PVC drain that comes with connecting couplers and is designed to be set level. This drain is commonly used in pool decks, patios and other pedestrian traffic areas.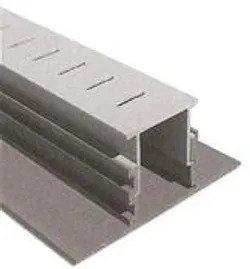 Adjustable Height Paver Drain
The Adjustable Height Paver Drain is a dual elevation deck drain system used for the installation of paver decks and patios. This unique design features a top cap that can be lapped past the joints for rigidity as well as a tray built into the base to set the pavers on.